Since 2017, West Swindon Parish Council is responsible for a range of services for the benefit of residents in West Swindon. These used to be carried out by Swindon Borough Council who remains the landowner. These services are delivered by a small team employed by West Swindon Parish Council.
To understand our approach, please read our Sustainability Plan: Sustainability Plan
This includes
Public open space grass cutting in parks, play areas and public verges
Shrub bed maintenance
Hedge cutting and maintenance on an annual basis or where there is an obstruction to the public footway
Tree branches work where it can be reached with hand tools from the ground, and, only on trees that are on public open space where the branches are affecting pedestrians/cyclists (not branches overhanging private property or gardens)
Floral planting
Allotment maintenance at Blagrove
Weekly inspections and cleaning of play areas
Litter picking & general street cleaning (not road sweeping)
Emptying of litter and dog bins
Graffiti removal (low priority)
Removal of small amounts of fly-tipping on public land
Cleaning of residential road signs
Fly poster removal from public street furniture
---
The West Swindon Civic Parish Boundary
The West Swindon Parish was elected on 18 May 2017. The West Swindon Parish covers the area that most people would describe as West Swindon. It covers Mannington Retail Park to Toothill and Freshbrook, Blagrove to Junction 16 and Grange Park, Westlea, Eastleaze, Ramleaze, Middleleaze, Shaw and Sparcells.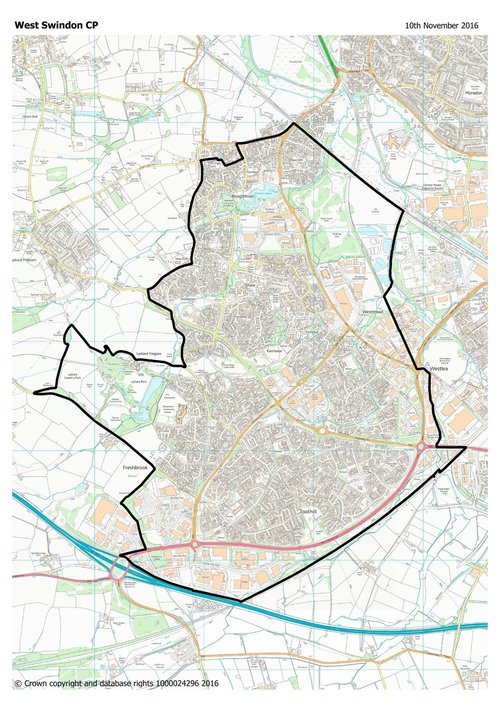 Map of the West Swindon Civic Parish Boundary
---
Parish Play Areas in West Swindon
West Swindon Parish Council provides 20 play areas and a skate park across the Parish.
https://drive.google.com/open?id=1AbLwVgf179Li3TG3aZIce4lZyZqzoYHl&usp=sharing
Bess Road (SN5 6HJ) - Toddler and youth play spaces
Bloomsbury Close (SN5 8PJ) - Toddler and youth play spaces
Camden Close Play Area (SN5 6BU) - Toddler and youth play areas
Clayhill Copse Play Area (SN5 5AL) - Toddler and youth equipment, basketball goal
Claypits Play Area (SN5 5WT) - Toddler and youth play areas
Eastleaze Field (SN5 5PU) - Primary and toddler playspace
Elm Ridge (SN5 5XN) - Neighbourhood play space
Mead Park (SN5 8QA) - Toddler and youth play area, adult fitness equipment
Middleleaze Play Area (SN5 5TQ) - Refurbished toddler and youth play areas, playing fields, youth kickabout area and adult fitness equipment
Nine Elms Park and Play Area (SN5 5UL) - Public open space and mixed play area
Oliver Close (SN5 6NP) - Neighbourhood play space
Rivermead Skate Park (SN5 7UT) - Skate park and public open space
Shaw Ridge Play Area (SN5 5QB) -Junior play area and public open space
Shelfinch Play Area (SN5 8AR) - Toddler and youth play areas and kickabout
Sparcells Play Area (SN5 5FG) - Toddler and youth play areas
The Chesters Play Area (SN5 7HX) - Mixed play areas
The Holbeins Play Area (SN5 6DW) - Mixed play areas
Tumpy Field (SN5 5SL) - Toddler play area
Uxbridge Road (SN5 8RT) - Small youth play area
Westlea Park (SN5 7BA) - Mixed play area, open space and kickabout
Whitehill Park (SN5 8JC) - Mixed play area

---