Taking part
The Parish Council supports local volunteering in West Swindon. There are regular groups that volunteer together already (see below) however if you have an idea or would like to do something as a street, neighbourhood, small group or club, please contact us and we will do our best to help!
Shaw Residents Association is an active residents association with regular litter picks and organised community responses to planning applications and other local issues Shaw Residents Website
There are many Facebook groups that share information and messages such as West Swindon Community Facebook West Swindon Facebook Westlea Facebook group Westlea Facebook.
The Parish Council works closely with Swindon FAB (Flowers and Butterflies) on conservation projects and wildflower projects. The FAB group hold regular sessions for volunteers at the copse on Shaw Ridge Linear Park (behind Ten Pin). West Swindon FAB
---
Monthly Litter Picks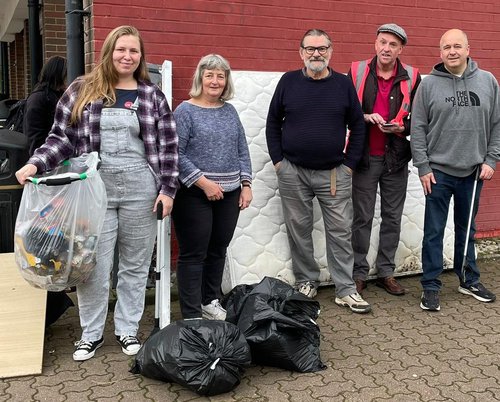 Each month, Parish Councillors are joined by volunteers litter picking and clearing rubbish in Toothill. Litter picking can make an immediate, visible difference to your community so we would encourage more residents to get involved. It really is a very rewarding activity!
The Toothill group meet on the second Saturday of the month at Toothill Village Centre outside of the Community Centre at 10am.
The meeting dates are:
11th November
9th December
13th January
10th February
9th March
13th April
---